If lately, whenever you look into the mirror, you've been thinking about dyeing your hair, you're not alone. In fact, did you know that reportedly over 70 percent of women in the United States use some sort of hair-coloring product?
Some do it to cover up grays. Some do it to switch up their look. Some do it to experiment with something new.
Whatever your personal reason may be, this article can help you to discover what the attractive color in 2022 trends are. That way, you can settle on a hue that will complement your personality and skin tone. Plus, it will cause you to become a trendsetter among your circle of friends.
So, let's get into some popular colors that will suit any hairstyle, whether you plan on color-treating your natural hair, wearing a wig, or adding some extensions.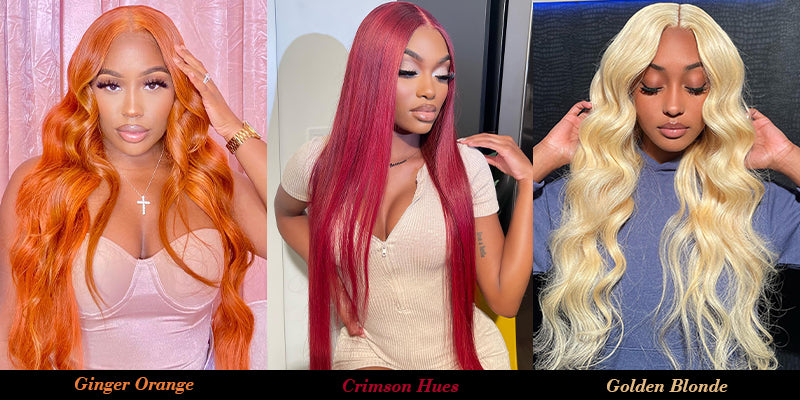 Ginger Orange
A color that is perfect for the spring or summer season is ginger orange. Something that's special about this shade of orange is it complements tanned and darker skin tones in a truly remarkable way. Also, if you already have red hair, it can add some depth to your locks by brightening up the shades of red that you've got.
Orange hair is for the woman who likes to walk on the bolder side of life. It's for the one who wants to stand out in a crowd.
Crimson Hues
Red is always going to be seen as sexy. Crimson is simply a deep shade of red that has a purplish tint to it. The great thing about this option is there are different shades of crimson that you can choose from.
You can go with a ruby color, something that looks a lot like a strawberry, or even a red hue that has some brown in it. Whatever you decide, if you want hair that looks seductive, crimson is the way to go.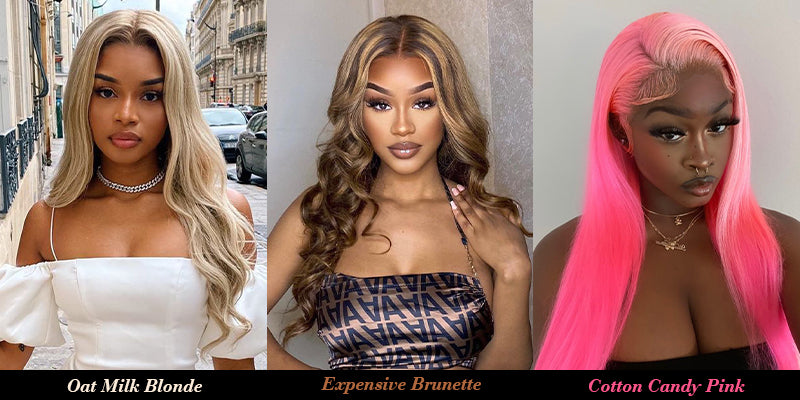 Golden Blonde
Say that it's summertime and you want to wear the water wave look. A hair color that would be perfect for that is golden blonde.
That's because golden blonde has a way of making your hair look just like it was kissed by the sun. A convenience about this color is since the roots of your hair are often already darker, that can make the growing out process of this color easier on you.
Oat Milk Blonde
Speaking of blondes, another kind that's currently all the rage is oat milk blonde. The best way to describe it is that it looks a lot like wheat (a light brown that's a little on the ashy side).
This is a multi-dimensional kind of hair color thanks to the highlights that are typically added to it.
Expensive Brunette
What if you'd like to do a little something to your tresses but nothing major? Another attractive color in 2022 trend that goes well with natural hair or HD lace wigs is expensive brunettes.
It's all about embracing the natural brown hues in your hair and then adding some depth and dimension to them. This is done by enhancing them with professional shine or gloss treatments.
The benefit of opting for this look is it can make your hair look rich and luxurious without doing anything drastic. It's a great way to "ease into" hair color if you've never color-treated your hair before.
Cotton Candy Pink
If you're the bold one in your circle and you're all about the latest fashion trends, how about hair that is cotton candy pink?
Pink is a color that represents femininity, approachability, inner peace, affection, and friendship. You will definitely catch the eye of everyone you come into contact with should you decide to take this route.
Enhanced Silver
It's common for women in their 30s to start going gray. These days, many of them are not running away from their silver strands. Instead, they are embracing them. They're doing this by shampooing their tresses with a purple shampoo. Sometimes they add highlights or lowlights, too.
If you don't have any gray hair yet but you really like the color, you can always dye your hair silver or wear a wig that has gray strands in it.
You can be confident that you'll look fabulous with all of these options. There's no doubt.
Shades of Green
Green is the color of money. It's also the color of nature - something that represents life and renewal. Green is also another hue that is popular right now.
Since green comes in so many shades, you can use it for subtle hair highlights or you can go with a brighter color when it comes to your wig fashion.
An Attractive Color in 2022: Color-Blocking
Color-blocking is a coloring technique that also uses a bold approach. It's all about taking sections of your hair and dyeing them a color that is a direct contrast to the other hair color (or colors) that you have.
What's awesome about this color trend is you can take it as conservative or extreme as you want to go. You can color your bangs. You can color your ends. You can color the lower half of your hair.
With color-blocking, the sky is the limit! It's all about the sections that you choose and the different hues that you decide to go with.
Money Pieces
What's something that gold, silver, and copper all have in common? They're all the color of coins - of money. And what does this have to do with the money piece hair color technique?
Another popular hair color trend is called money pieces. It's all about choosing a color to frame the front of your face.
The great thing about this option is you can go with a neutral shade (like the color of coins) or you can choose something that is totally outside of the box. A lot of stylists recommend trying this technique because it has a way of brightening your face and drawing more attention to it.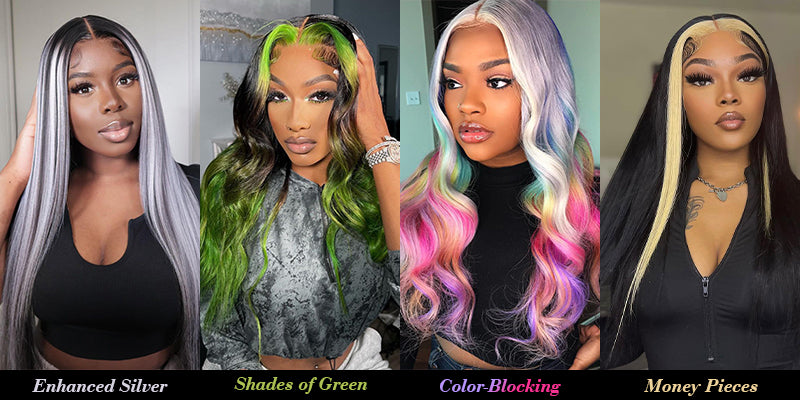 Let Us Help You Choose the Right Wig for You
As you're reviewing the list and thinking about what an attractive color in 2022 would work best for you, if you want to try a wig, don't hesitate to reach out to us. HD lace wigs, a water wave look and wigs in all of the colors mentioned here - we've got it all.
Feel free to send us an email at service@curlyme.com at any time.