More than half of all Americans wear wigs or some other type of hair extension.
If you love wearing wigs, then you know all about the luxury, beauty, and confidence that these hair pieces bring. Whether you're looking to extend the length and volume of your natural hair or to change your hair color without having to commit to dye, wigs are the perfect solution to achieving your dream hair.
But what if we told you that there was a wig friendly for beginners? Our new Wear Go Glueless Wig features a 4x4 lace closure and is one of the easiest wigs to install. To learn more about this product, keep on reading!
What Is the Wear Go Glueless Wig?
Some people may just use wearing wigs as a form of self-expression. A wig may be worn for pleasure and has numerous advantages, and often changing your appearance can be freeing.
Wearing a wig is a great approach to shield your natural hair from daily harm like heat or products with harsh chemicals if you want to take better care of it. Your hair is maintained in a protected fashion while you wear a wig, so you could notice that it grows out healthier and fuller as a result.
Our brand-new Wear Go Glueless wig is one of the very best wigs for beginners. This is because it is a pre-cut lace wig that allows easy application and a seamless appearance.
This wig is 100 percent glueless and comfortable to wear. What's more, you won't have to deal with any clips or combs during wear. It's also secure and breathable, which is perfect for everyday wear!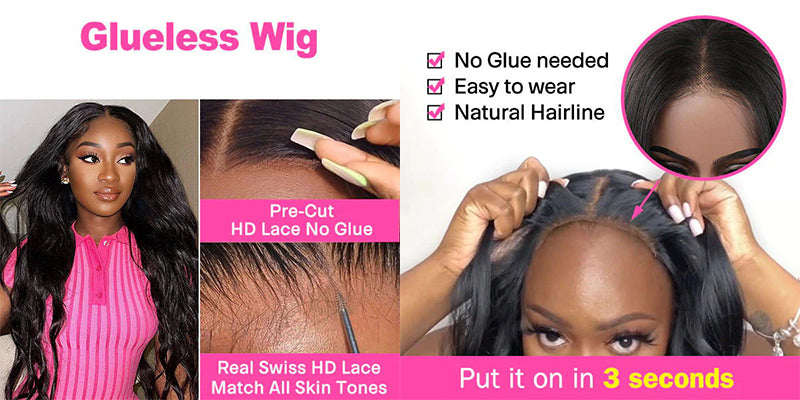 Pre-Cut
The Wear Go Glueless Wig features pre-cut, real invisible HD lace. Only the thin baby hairs at the front are visible since this lace panel blends in with the skin. Since lace is prone to breaking and wouldn't make for a solid entire hat, the remainder of the wig cap is constructed from a tougher, more resilient material.
With the little sewed hairs simulating "baby hairs" on the hairline, any surplus lace from the panel is cut away to conform to the curve of the natural hairline.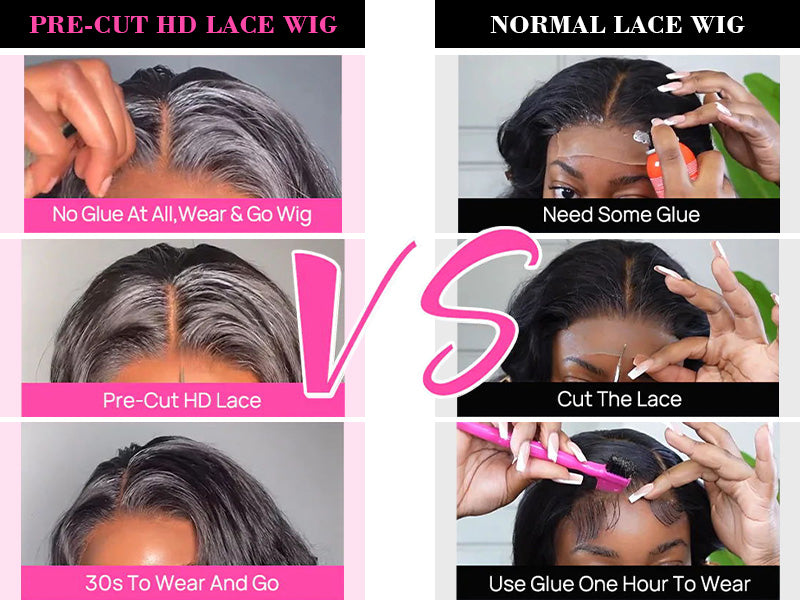 4x4 Lace Closure
Due to its compact size, a 4x4 closure wig is simple to attach. The installation of the wig will take less time as a result. It is perfect for ladies with hectic schedules since it saves time and makes it simple for women to attain natural hairstyles.
If installed correctly, this lace closure wig delivers flawless installation and combines beautifully with real hair. This will make it appear as though the lace is sprouting from your head. Additionally, the closures are made of very fine lace that matches the color of the scalp.
As a result, it appears quite natural. The wig also includes a pre-plucked, clean hairline for maximum results.
Try a Wig Friendly for Beginners
Long-term harm might result from hair coloring and curling treatments. Your hair will suffer greater harm if you style it more frequently. Therefore, it is time to try the Wear Go Glueless Wig!
With its 4x4 lace closure, this is definitely a wig friendly for beginners and pros alike. To shop more of our human hair wigs, just browse our top-rated selection here!