CurlyMe especially for you wigs refers to our new type glueless lace front wigs. Unlike tradition glueless wigs, this type of wig can offer melted Hd lace front, with no skill, no glue, no adhesive needed to install it. So you can get a very invisible lace wig with no glue install. Why not having your own especially for you wigs?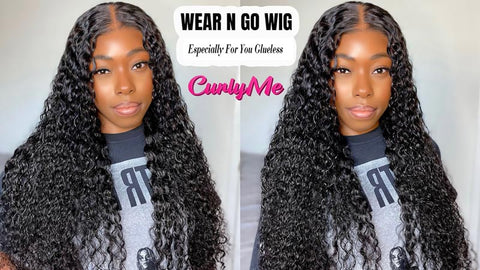 Features of Especially For You Glueless Wigs
1. 100% Glueless - protective style
2. HD lace full frontal wig - most natural looking
3. 100% high grade virgin human hair - realistic like your own hair
4. Beginner friendly - zero adhesive & no skills needed
5. Wide selection - bob style to 32inch long; Straigt, wavy to little curl
Why Choose Especially For You Glueless Wigs?
When comparing with lace front wigs. Since lace front wigs installation use glue and other adhesive stuff, which will cause discomfort and even allergic reactions. Curlyme especially for you glueless wigs also apply hd lace frontal, and use no glue and zero adhesive to install, which is more friendly to our natural hair and skin.

When comparing with tradition glueless wigs like tradition machine made no lace wigs, u part wigs and more glueless wigs. Curlyme especially for you glueless wigs looks more natural since it has hd lace full frontal for natural hairline and parting space. No lace wigs are not looks as natural as lace wigs. And you will need to use some leave-out to install when installing a u part wig.
Easiest Glueless Lace Front Wigs Install