Barbie hairstyles is the hot trending this summer. Add more barbie vibes with Curlyme barbie hairstyles wigs for women, live a dream and happy life.
Sun-kissed gorgeous blonde wig, lovely sweetie pink wig, cool bold blue wig, silky black wig, with hair lengths ranging from 10-32 inches, the barbie hairstyles is designed to show diversity and unique, be happy and lovely.
Barbie Wigs for Women
Barbie Light Ash Pink Wig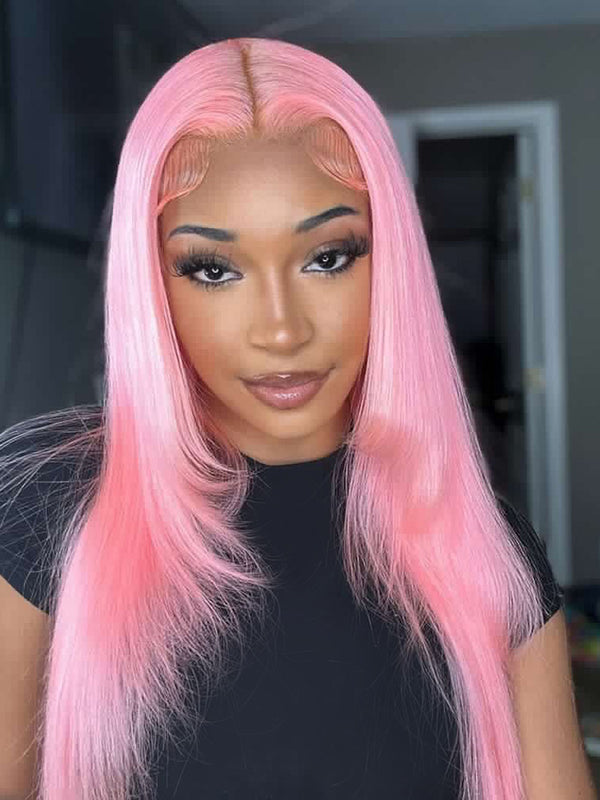 Barbie style light ash pink wig for women looks very dreamy and sweetie. Curlyme Girlish light pink wig is thick and smooth, 100% human hair, 13x4 lace frontal for sale.
Barbie Hot Pink Wig
Hot Pink is a very barbie style hair color, really suits for hot summer. Style your hot pink wig with a blunt bang or a middle part style, will looks fabulous and stand out of the crowd.
Barbie Blonde Wig
Blonde wig is the classic barbie hair color. Wearing with a pink dress, and you can acheive the barbie styles to the extreme. Blonde hair color looks very beautiful and charming, add more feminine, definitely suits for summer season.
Barbie Black Wig
We can get a Barbie vibe with black wig, create a high ponytail or two cute space buns with silky black hair. A head of long silkly black hair, or fabulous black curly hair, compared with a set of black, or red clothe, looks very cool and beautiful.
Barbie Purple Wig
Barbie Purple color wig looks sweet and fashion, gives off a very stylish vibe. Fairy long purple hair or cool short purple hair, better show your personality and unique, a great summer hair color.
Barbie Bob Wig
Barbie bob wig give a sweet and cool vibe, you can get a blonde, pink, brown, black or red color bob wig, style with blunt bangs or cool middle part. Barbie bob wig is also very suitable for summer season.
You can achieve various and beautiful barbie hairstyles with Barbie Wigs for Women at CurlyMe hair store. Bring confidence, feminine power, diversity, and happy for you by adding some barbie vibes to your hairstyles and clothes.