CurlyMe Deep Wave 1/3/4Pcs Bundles Natural Black Virgin Human Hair
| | |
| --- | --- |
| Hair Name: | Bundles |
| Hair Style: | Deep Wave |
| Hair Length: | 8-26 inches |
| Wig Weight: | 100g/bundle (+/-5g) |
| Color: | Natural Black #1B |
| Quality: | 100% Virgin Human Hair Bundles |
| Shipment: | DHL, Fedex or UPS 3-7 business days. |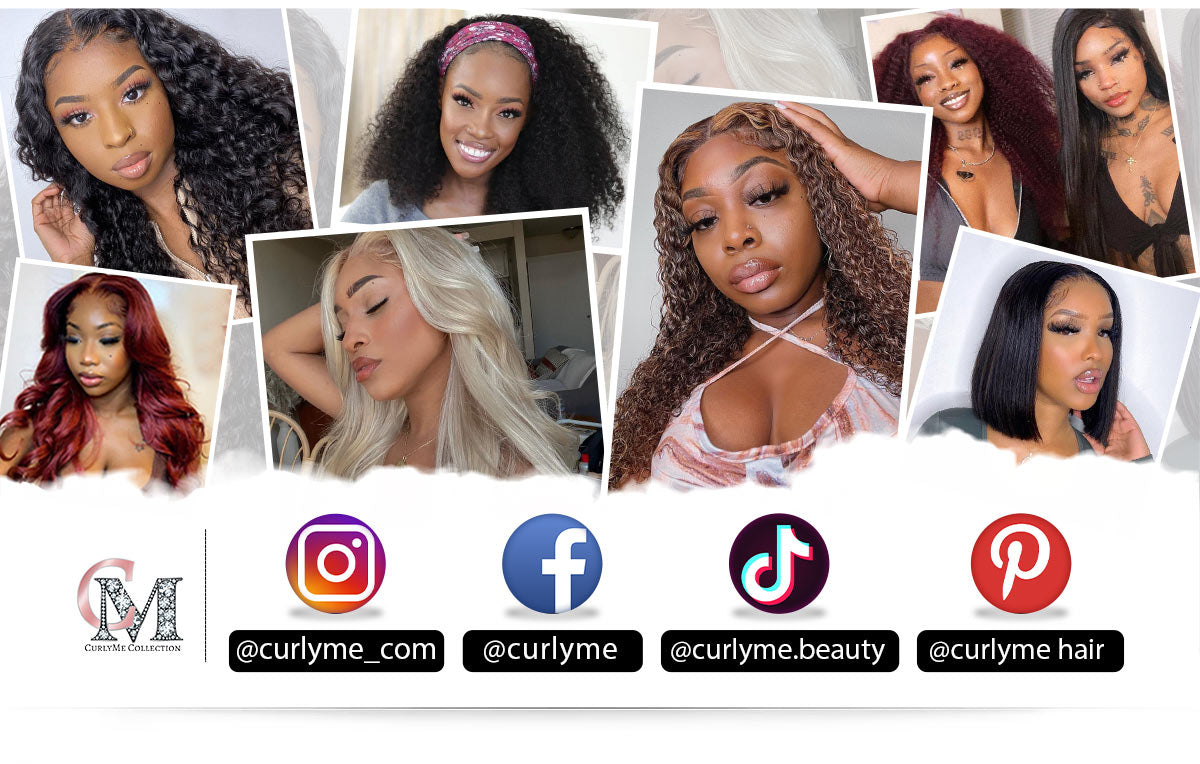 FAQWhy Mongolian Hair?One thing you should know is that Mongolian hair is the best choice for curly hair textures. Why? Here are the 3 reasons:
1.Mongolian hair is strong than other hair type, so it hold curls better. Your can blow the hair straight or use heat on it, it may hard to get the bone straight look, more than a naturally yaki straight look, and after it's get wet, the hair will back to the original curls.
2.The thinner the hair is, the easier it got tangled. As we all know, Curly Hair is easy to get tangled, but as the Mongolian hair is thicker than other hair type, it is less tangle and more easier to do detangle than others.
3.Mongolian Hair is full and thick, meanwhile, it's lighter weight than other hair type. So it can give you a full look while not so heavy when you wear.It's very important especially for hot weather.
How Long Does CurlyMe Hair Last?
CurlyMe Hair can last 12-24 Months if you take care of it well. Of Course we will show you how! Here are some Hair Care
tips>>
How Soon Can I Received the Express Delivery?
CurlyMe Hair Mall offers fast and free shipping worldwide
To US: 3-7 working days through DHL, Fedex or UPS
To UK: 3-7 working Days through Dpex-Royal Mail.
To Germany: 3-7 Working Days through TNT
To other countries in EUR: 3-7 working days through DHL
To SA: 7-10 working days through Dpex or DHL
How to wash my CurlyMe Hair?
Cold water or lukewarm water clean, use some gentle shampoo. Hydrating shampoo such as Shea Moisture Shampoo or As I am Shampoo will be great choice for curly hair. But that won't be necessarily, it's OK to use deep conditioner directly. According to the wearing frequency, generally in 2-3 weeks or so wash 1 time. Dry naturally after washing.
How to Maintain my CurlyMe Hair Curls?It's better to take off the wig when you sleep, especially for curly wig.
When the hair get dry and poofy, you can use mousse or leave-in conditioner.
1.Wet the hair with water first, spraying the hair from the root to the ends. detangle the hair with your hands first, then the combs. if there's tangled knots, don't worries, be gentle, you can leave it with conditioners, brush it too hard will cause shedding, we don't want that.
2.Smoothing your favorite product throughout the hair and continue detangle it, you may like the Shea Moisture leave-in conditioner. Spray all over the section, and maybe add more on the ends, because the ends usually drier quicker.
3.Mousse can help to keep the curls popping and keep it from freezing all day! Use it with leave-in conditioner will be better! Also if you like wet look, Mousse will be the great choice! It will sealed in all your pretty little curls and maintain it really well!
BABIES MUST BE PATIENT AND CAREFUL.